This page created and maintained by the Kane County Genealogical Society © 2007 through 2018. All rights reserved.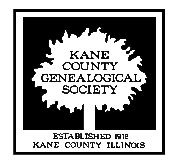 For over 38 years the Kane County Genealogical Society has proudly worked to bring resources and information services to those interested in learning more about their family history. Whether your family originated in Kane County or you are a first generation resident, KCGS welcomes you to visit our site, consider our research services - detailed in the Master Name Index - or participate in one of our monthly meeting.
Come Join Us!
MAY 24, 2018
BETWEEN A ROCK AND A HARD PLACE
Speaker: Tina Beaird
JUNE 28, 2018
DID I GET EVERYTHING? CREATING A GENEALOGY RESEARCH CHECKLIST
Speaker: Thomas MacEntee, in person
Note - This meeting is at the
Batavia Public Library
Our Master Name Index database listings have been updated to reflect the most current contents. Visit the Master Name Index page to search these updated listings.
Last site update, May 18, 2018
Meeting Location:
Geneva History Museum 113 S. Third Street
Geneva, IL
Meeting Time: 7:30 PM